To enhance risk assessment practice, Ben Salmen PGDip, will be hosting the 'Risky Business' workshop at Moving and Handling People 2022 as part of the event's comprehensive CPD programme.

Risky Business workshop, hosted by Ben Salmen PGDip
Moving & Handling People 2022, 'Tomorrow's World', De Vere Beaumont Estate, Burfield Road, Old Windsor. SL4 2JJ.
22nd and 23rd February 2022, 9am-5pm.
Workshop synopsis
Have you had enough of tearing your hair out over risk assessments? Have you heard 'what does your risk assessment say' one too many times? Do you feel like risk assessment is shrouded in mystery? Then come and join us for this interactive CPD workshop. Taking a straightforward approach to the process this workshop aims to look at a variety of considerations throughout the risk assessment journey from:
Hazard spotting
Selecting appropriate solutions
Implementing control measures
Appropriate recording
The session will use collaborative working and problem solving to help de-mystify risk assessment and allow you to build upon your experience and inform future practice.
About the trainer – Ben Salmen
Ben began his career in the care industry as a home carer and has experience of direct care delivery across older people's services, physical and learning disabilities services and disabled children's services. After time, as a Manual Handling advisor, Ben moved into training delivery and has now been operating in this field for over 12 years. As a training consultant, Ben has extensive educational experience across a range of topics with Manual Handling and Health & Safety as his core areas of interest. Ben has a PGDip in Back Care Management from Loughborough University and additional Health and Safety qualifications. Working for HME Limited, Ben is based in the East Midlands and has previously been the Vice-Chair of the East Midlands Back Exchange.

Moving & Handling People 2022
The Moving & Handling People conference and exhibition will deliver a unique educational platform of seminars, workshops and networking for healthcare practitioners responsible for supporting client transfers and mobility. The 2022 event will explore future planning practices gained from the pandemic and discuss the latest strategies to comply with health and safety. The world of moving and handling has changed – delegates will learn and understand how practice is evolving through the very latest approaches to minimise client contact. From assistance to stand, moving unconscious patients on ICU through to supporting complex community cases and bariatric patients in their home, Moving & Handling People 2022 has all the answers.


Published: 11th June 2021
Source: Disabled Living Foundation (DLF)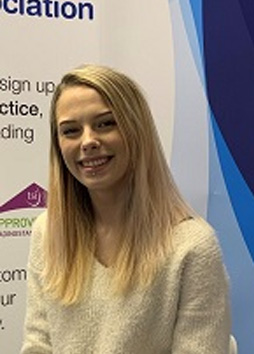 Millie joined the BHTA in March 2019 after completing an Extended Diploma in Level 3 Creative Media.