The rising costs of our bills, groceries, fuel, mortgage, and rent payments, coupled with Brexit-related import and export price increases, means that we all have to make our earnings stretch even further than usual this winter. 
This means that the chance to snap up a bargain has even more appeal this year, especially with Christmas just around the corner.
Unfortunately, the pressure to save money has led to an increase in scams, counterfeit goods, unsafe products, and food fraud.
New research published by Trading Standards indicates there has been a surge in practices that are harming consumers – including a trebling in the volume of counterfeit goods seized.
Included in the research is the fact that three-quarters of UK adults are feeling more vulnerable due to the cost-of-living crisis and nearly half have seen a rise in scams.
As the report states:
"Three-quarters of UK adults are feeling more vulnerable due to the cost-of-living crisis and nearly half have seen a rise in scams."
With that in mind, it is now more important than ever that we spend our earnings on reputable and trustworthy companies.
How the BHTA can help
Unfortunately, the selling of unsafe products isn't just restricted to online sales.
Dishonest sales techniques, often known as aggressive selling, are not new of course, but more prevalent than before and especially dangerous when they involve healthcare products.
Here at the BHTA, we have put together a list of underhand sales techniques to look out for which you can find here.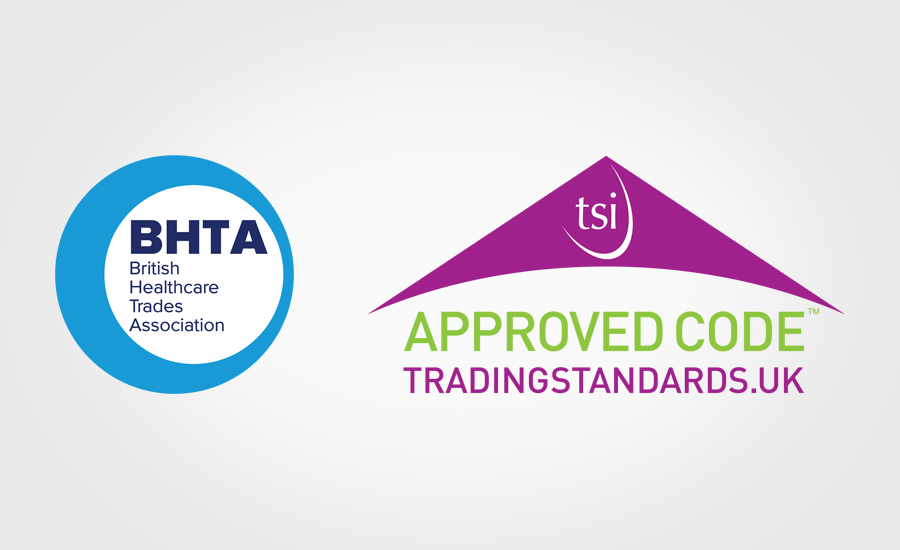 Look for the BHTA logo
To become a member of the BHTA, companies have voluntarily signed up to our CTSI-endorsed Code of Practice.
Amongst other benefits (you can read more details about our Code of Practice here) this will give you extra consumer protection when you buy independent living solutions, for added peace of mind.
In particular, our Code provides you with:
Reassurance that our members' behaviour, customer service, approach to sales, and terms and conditions relating to refunds are being checked
Peace of mind that our members commit to putting the needs of their customers first, with requirements to provide product assessments and high-quality aftersales service
Support in the event of a dispute arising, with independent arbitration available at no cost to you
The certainty that you can trust in the advice, information, products and services that our members provide to you.
So, when you are looking for mobility aids, assisted living technology, or other healthcare products if you see the BHTA logo you know that you are spending your money with a trustworthy and reliable company.
We also have a wealth of useful information and advice for consumers on our website, and if you do have any questions please do contact us at marketing@bhta.com.