Theraposture, a specialist supplier of Rotoflex rotating beds, adjustable beds, chairs, and care cots, has been selected by the MS Society's trading company 'MSS (Trading) Limited' as an official Affinity Partner.
From February 2021, the MS Society will be able to signpost people living with multiple sclerosis (MS) to Theraposture products at reduced prices. Additionally, every sale will generate a donation from Theraposture to the MS Society, so the charity can continue its vital work with and for the MS community.
Celebrating 40 years this year, Theraposture is a trusted nationwide specialist in quality assistive furniture with family-run headquarters in Westbury, Wiltshire. Its customer-centric and clinically led heritage is focused on positive outcomes for all individuals seeking greater independence and comfort at home. It is the supplier of the award-winning and patented Rotoflex turning bed, which won the acclaimed Excellence in Caring Award at the Occupational Therapy Show. As an ethical provider, Theraposture already partners with Parkinson's UK and Newlife, the charity for disabled children, which are now supported alongside the MS Society.
MS is a condition of the brain and spinal cord that affects more than 130,000 people in the UK. It can cause a range of symptoms, including fatigue, vision problems, numbness, pain and mobility problems. Established in 1953, the MS Society is the UK's biggest multiple sclerosis (MS) charity, here to make life better for people with MS through research, campaigning, services and support. The Affinity Partnership will help the charity in its mission to stop MS, and ensure no one has to face MS alone.
Theraposture is the first and only product manufacturer to be appointed by the MS Society as an official Affinity Partner – testament to the company's values and ethical client centred approach. Its power-assisted solutions are specifically designed to help people with neurological and progressive conditions such as MS. They reduce or eliminate the need for expensive care, lower Covid-19 risks and enhance mental health and well-being. Theraposture products are made to look at home in the client's home, whilst still delivering the assistance that is needed.
As well as discounted prices, every Theraposture client living with MS will benefit from a full assessment of needs and wants, including a demonstration and chance to try solutions before purchase, a 14-day suitability guarantee and comprehensive warranty.
Thomas Bolsin, Corporate Partnership Manager at the MS Society, said: "We are delighted to be working with Theraposture and to announce them as our first Affinity Partner. We know these products can be really valuable to people living with MS, and are confident this relationship will offer important benefits to our community – while helping us raise essential funds in the process."
Liam Braddell, Theraposture Director concludes: "We are honoured to have been selected by the MS Society to partner with the charity following a rigorous due diligence process. This relationship will benefit so many people with MS seeking proven solutions that deliver positive outcomes. Our partnership with major charities is not a coincidence. We are focussed on the clinical provision of medical devices that help to deliver independence at home."


Source: Theraposture
Published: 15th February 2021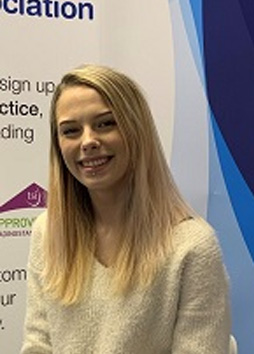 Millie joined the BHTA in March 2019 after completing an Extended Diploma in Level 3 Creative Media.