Organised by the DLF and part of its Professionals Programme, Moving and Handling People returns for its 25th year in February 2022 with an unsurpassed CPD programme for all practitioners focusing on 'Tomorrow's World' care.
Moving & Handling People 2022, 'Tomorrow's World', De Vere Beaumont Estate, Burfield Road, Old Windsor. SL4 2JJ. 22nd and 23rd February 2022, 9am-5pm.
As one of the first face-to-face events of its kind since 2019, Moving and Handling People 2022 will deliver a unique educational platform of seminars, workshops and networking opportunities as it brings together thought leaders from across the healthcare sector. Building on significant success since 1997, this highly regarded annual exhibition and conference will present brand new content that represents an unmissable opportunity for all moving and handling professionals. The 2022 event will explore future planning practices gained from the pandemic and discuss the latest strategies to comply with health and safety. The world of moving and handling has changed – delegates will learn and understand how practice is evolving through the very latest approaches to minimise client contact.
From assistance to stand, moving unconscious patients on ICU through to supporting complex community cases and bariatric patients in their home, Moving & Handling People 2022 has all the answers. Attendees will be able to learn new techniques and practical problem-solving approaches from experienced facilitators only available at this event. Workshops will be delivered through a dedicated timetable so sessions involve smaller, hands-on groups – ensuring the educational experience is more rewarding. There will also be the opportunity to participate online for delegates who are unable to attend in person and prefer a virtual experience. In terms of speakers, Moving & Handling People will once again present a panel of renowned experts who will be appearing exclusively in plenaries and seminars.
Moving & Handling People 2022 provides unique benefits to a range of delegates – from specialist practitioners, who can review the latest thinking in one place, through to recently qualified professionals and students seeking a broad induction. Moving & Handling People events are always fully endorsed by previous delegates:
"The opening address was very thought provoking and looked at the bigger picture of manual handling in context of current practical healthcare landscape." Joanna Greer, Occupational Therapist.
"Really good paediatric session and the bariatric session was excellent. Nice not to have too many in each session." Sally Cassar, Moving and Handling Practitioner
"Really enjoyed all sessions. Very practically orientated which makes it really interesting. All speakers open to questions so really beneficial" Aine O'Sullivan, OT Delegates will once again be able to benefit from real interaction with their peers so they can discuss best practice. The sharing of opinions, ideas and experiences will be available over two days full of content that is facilitated in an environment conducive to education. There will be free lunches and refreshments on both days which can be enjoyed in a tranquil setting. Every delegate will receive a CPD certificate of attendance and an informative event pack. No other event of its kind will showcase such a diverse range of training opportunities and assistive equipment displays from leading suppliers – all aimed at raising professional performance to meet the challenges of Tomorrow's World.

Published: 16th March 2021
Source: Disabled Living Foundation (DLF)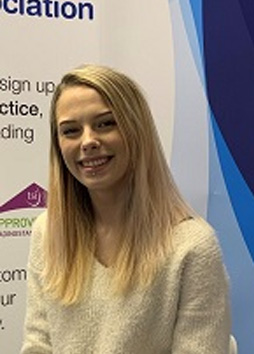 Millie joined the BHTA in March 2019 after completing an Extended Diploma in Level 3 Creative Media.