Shaun Masters, Occupational Therapist and Equipment Specialist, will be hosting a series of free-to-attend CPD webinars during January and February 2022.

These 'Masterclass' educational sessions provide a convenient opportunity to complete CPD hours early in 2022 and each attendee receives a certificate of attendance and a reflective log. There are three topics to choose from and each one focuses on solutions to topical challenges in the community. Healthcare professionals are encouraged to attend all three with a choice of midday sessions or recorded broadcasts in the early evening. Whichever is preferred, Shaun will be available for a live Q&A so specific client needs can be discussed along with deeper exploration of subject matter. This education aims to strengthen everyday practice for OTs and improve outcomes for clients.

Places on the Masterclass webinars can be booked here: https://tinyurl.com/2p8x7vbf 

Confidence in paediatric cot bed prescription
Practical and theoretical recommendations to achieve better outcomes for children, families and carers.
Tuesday 25 January 2022. Live: 12 noon – 12:45
Recorded: With live Q&A, 16:00-16:45

Helping adult clients get legs into bed
Practical and theoretical recommendations for client independence and safer bed transfers.
Thursday 27 January 2022. Live: 12 noon – 12:45
Recorded: With live Q&A, 18:00-18:45

Clinical reasoning for assistive equipment – chairs and beds
Guidance to achieve improved client occupational performance in the home.
Tuesday 1 February 2022. Live: 12 noon – 12:45
Recorded: With live Q&A, 16:00-16:45

In addition to improving occupational performance, Shaun's webinars will explore the many health and socio-economic factors around the provision of effective adjustable cots and beds. Shaun encourages all professionals to engage with him on topical discussion and methodology to ensure positive outcomes for all.

About the host Qualified as an OT since 2011, Shaun brings a wealth of clinical knowledge to Theraposture and its clients. Before joining this Wiltshire-based specialist, Shaun was responsible for delivering community based re-enablement in the public sector. Local Authorities and residents in Hampshire, Berkshire and Dorset all benefitted from his diligent and pro-active approach to occupational improvement. Shaun has expertise in moving and handling in both adult and paediatric sectors so is ideally qualified for a Trusted Assessor role. He now leads the educational programme for Theraposture, supporting healthcare professionals across the UK with online and face-to-face CPD.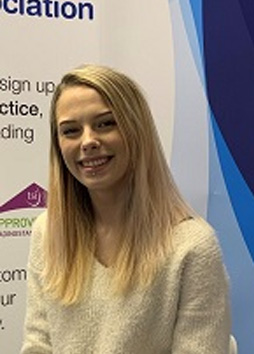 Millie joined the BHTA in March 2019 after completing an Extended Diploma in Level 3 Creative Media.