A revolutionary sterilisation system is being offered by medical products specialist Algeos as the UK eases out of lockdown.
Sterilair PRO is an innovative, portable system which can be used in clinics and a wide range of healthcare settings.
Unlike air purifiers, the device is able to treat the air biologically, meaning it drastically reduces bacteria and viruses of up to 0.3 microns (the size of the Covid-19 virus) as well as fungi spores.
The device works on the basis of a closed loop forced ventilation system. Air sucked into the system's internal chamber first passes through a dust filter located in the intake, which is designed to block the coarsest pollutants, giving the air an initial purification. The air then enters the irradiation chamber in direct contact with the mercury vapour tubes which, thanks to the emission of UV-C radiation, carries out maximum germicidal action. Clean air is then expelled through the nozzle output at the top of the device.
The systems can treat environments of up to 120 cubic metres, meaning that it can protect employees, visitors and patients in meeting rooms and waiting rooms of this size, with the option for multiple systems to be installed within one building.
The product is very quiet (32 dB) so it can be used throughout the working day, carrying out the continuous and constant disinfection of the air in any environment. It can even be programmed to be switched on a couple of hours before your team's arrival, meaning your staff can feel safe and confident in their working environment.
Due to its compact size, Sterailair PRO can slot into any environment seamlessly and comes with Algeos' 12-month warranty as standard. It is available to order immediately and can also be purchased on finance if required.
Catherine Higgins, Managing Director at Catherine Higgins Law and Algeos customer, who is currently using the device at her firm in Merseyside, said: "We are really impressed by the Sterilair PRO system.
"Being a law firm, we have needed to come into our offices during lockdown and Sterilair PRO has enabled us to do so confidently and safely.
"The device is part of our Covid-19 risk assessment and it has given both myself and my staff real peace of mind during this time."
Jackie Fisher, CEO at Algeos said: "We're really pleased to be able to offer this innovative product which can make such a difference to the confidence of employees as they gradually return to their working environments with the UK emerging from lockdown.
"We have been using a Sterilair PRO device on site ourselves for some time now and the ability of the product to reduce the contamination risk yet work so silently has been really advantageous.
"The health and safety of Team Algeos and our visitors is always at the forefront of our minds and Sterilair PRO has given us peace of mind. Being such an adaptable system, it can not only fit in anywhere you choose but is portable so can be moved throughout the day to where it is most needed."
Sterilair Pro is available to buy on the Algeos website here: https://www.algeos.com/sterilair-pro.html
Algeos also has a wide range of other PPE products available to buy here: https://www.algeos.com/PPE-Hygiene


Published: 12th April 2021
Source: Algeos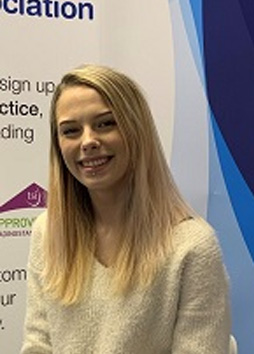 Millie joined the BHTA in March 2019 after completing an Extended Diploma in Level 3 Creative Media.