The British Healthcare Trades Association (BHTA) has bolstered its growing team with the addition of William Lee and Samantha Lewis, joining as the association's new Policy and Parliamentary Executive and Marketing Campaign Manager, respectively.
A graduate of Lawrence University, Wisconsin, and Columbia University, New York, William (Bill) Lee brings 25-plus years of research, policy, advocacy, risk and operations experience, working on behalf of vulnerable communities at US & UK NGOs and governments. In particular, he has been involved in efforts to support Holocaust survivors and bioscience researchers persecuted by violent extremists. His individual research and advocacy also led directly to the restitution of Anselm Feuerbach's Head of a Girl and Lucas Cranach the Elder's Madonna with Child.
In addition to his government and NGO experience, Bill also brings a decade of experience in senior leadership positions at for-profits, having held roles in management consulting at the Corporate Executive Board (now Gartner), and retail operations at independent retailers.
Bill's new role within the BHTA will see him support the development and dissemination of policy, parliamentary and technical work for the association and its members. He will also further the BHTA's influencing work through relevant Westminster and Whitehall activity, plus devolved nations, and wider stakeholder engagement.
Commenting on joining the BHTA, Bill said: "I'm thrilled to bring my broad background and varied experience to BHTA, and I look forward to helping our members develop and deliver the very best products and services – as we confront COVID, Brexit, and a fast-moving healthcare landscape. It is more important than ever for everyone to have access to the best products and support available, so they can live healthier and more independent lives." In his free time, Bill enjoys spending time with his son, tennis and golf, cooking (Gourmet magazine published his recipe for Smoky Black Beans) and film. He is also an avid writer, with his published works including a cultural diplomacy review (pp. 2-4) and his personal experience of the 11th September 2001 (pp. 36-37), where he worked a block from the World Trade Centre.
Alongside the addition of Bill to the BHTA is Sam Lewis, joining the association's marketing and communications team in the newly created Marketing Campaign Manager role.
A graduate of Swansea University, Sam brings over six years' marketing experience, primarily in the healthcare sector, to the organisation. Before joining the BHTA, she worked for LloydsPharmacy, where she was responsible for running high-profile national campaigns designed to raise awareness among consumers about a range of healthcare services and products.
In her new role, Sam will execute campaigns that will educate and engage audiences about the BHTA, its Code of Practice, and its members. Working with the BHTA's media subsidiary, BHTA Engage, and its network of partners and members, Sam will help raise the profile of the association across a variety of offline and online channels.
"I'm really excited to be joining the BHTA at such a transformative time in healthcare," commented Sam.
"I'm looking forward to being a part of a team that promotes ethical practices for consumers in the healthcare and assistive technology industry, and advocating for our members."
Sam is also currently completing her Chartered Institute of Marketing Level 4 qualification in Digital Marketing.
Discussing the recent appointments, Dr Simon Festing, Chief Executive Officer of the BHTA, commented: "We are delighted to welcome both Samantha Lewis and William Lee to the British Healthcare Trades Association team. Both individuals bring a wealth of experience to the organisation and will be key to driving forward the policy agenda of the Association and raising our profile among a range of important stakeholders. "As the UK looks to a post-pandemic and post-Brexit future, the BHTA has an important role to play in ensuring our members' voices are heard. I am confident the addition of both Samantha and William will help us in this endeavour."

Published: 24th June 2021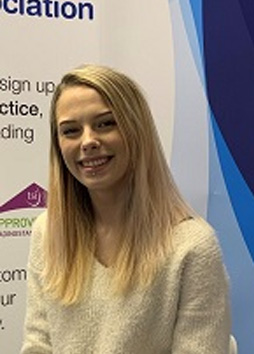 Millie joined the BHTA in March 2019 after completing an Extended Diploma in Level 3 Creative Media.