**** FOR IMMEDIATE RELEASE ****
[January, 2021] – [London, UK] – After news that the British Healthcare Trade Show (BHTS) has had to be postponed due to the third COVID-19 lockdown, the organisers have announced that the event has been rescheduled to take place on the 15th June 2021.
Delivered in partnership with the British Healthcare Trades Association (BHTA), THIIS Magazine and Promoting Independence, BHTS aims to bring the mobility, access and assistive technology sector together after 12 months of business disruption.
BHTS will provide a trade-exclusive space where industry retailers, installers and distributors can freely meet to network and talk business with suppliers and manufacturers in a safe, relaxed and secure environment.
Originally set to take place over one day in early February, the show was required to reschedule following the government's announcement of a third national lockdown on 4 January 2021.
Determined to ensure the show takes place in the spring ahead of the busier summer trading months, BHTS will now be held on 22 April 2021 at the same venue as before: Weetwood Hall Estate, Leeds
The event will act as the ideal launchpad for suppliers to showcase products to trade buyers just ahead of the warmer months.
With the government committing to vaccinate the top four priority groups by 15 February 2021, it is hoped the industry will see a significant number of its key consumer demographics vaccinated ahead of the summer, helping to fuel a strong marketing recovery.
To attend the show for free in April, visit https://www.eventbrite.co.uk/e/british-healthcare-trade-show-tickets-118463959893.
www.britishhealthcaretradeshow.co.uk
*** Ends ***
Notes for editors
Dates and venue:
Date and time: 22nd April 2021 from 9am to 5pm
Venue: Weetwood Hall Estate & Conference Centre, Otley Road, Leeds, LS16 5PS
About the BHTA: Representing over 430 companies in the healthcare and assistive technology industry, the British Healthcare Trades Association (BHTA) supports its members to help ensure the best outcomes for the most vulnerable in society. All BHTA members commit to the BHTA Code of Practice – the only code in the industry approved by The Chartered Trading Standards Institute.
Media contact information
Media contact: Calvin Barnett, Head of Marketing and Communications for BHTA
Contact phone number: 07741 641702
Contact email number: calvin.barnett@bhta.com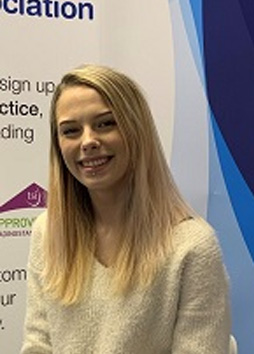 Millie joined the BHTA in March 2019 after completing an Extended Diploma in Level 3 Creative Media.