An award-winning cushion developed to help people in wheelchairs is being snapped up by osteopaths across the UK to help them deal with an increasing number of back problems and the dreaded 'numb bum' caused by working on their own home furniture.
Derbyshire firm Airospring Medical originallyproduced the wheelchair cushion specifically for Paralympic cyclist Karen Darke MBE, who used it when she won a gold medal at Rio in 2016.
Now the cushion has been given a new lease of life after an explosion in back problems due to people working from home on kitchen stools and sofas.
And Charles Wood, the eighth-generation owner of the Ilkeston-based technical textiles maker, says a number of employers have also bought the highly-supportive cushions to make home workers more comfortable and ward off back problems in the future.
Osteopath Sue Morrison, who practices in East Anglia, says she is seeing increasing musculoskeletal problems stemming from workers sitting for long periods of time on unsuitable kitchen or dining chairs.
Sue said: "We are dealing with a lot of spinal problems. During lockdown people's everyday lives were restricted, so they couldn't go to the gym or a Pilates class and instead they were spending long hours on their laptops.
"A laptop is not set up as well for them as their office station would be and these cushions are extremely good as they offer support to stop the back sagging."
Airospring Medical, which belongs to Baltex, started in 1831 when the Industrial Revolution was in full swing. Today, ever forward-looking, the company has used its award-winning 3D technology to manufacture the special pressure-relieving cushions.
The Airospring cushion won the Innovation Prize for Technical Textiles at a Textile Institute World Conference. Each is made from at least three layers of fabric, which spread the weight between them so that the pressure is not just localised in one area.
The cushion was initially developed for hand cyclist Karen Darke to use when her Paralympic hopes were in jeopardy after developing pressure sores. She went on to win a gold medal in Rio.
Dubbed "sitting on air", the pressure relieving cushions are made from 3D spacer fabric technology, the result of extensive research by the company and Professor Subhash Anand MBE at the University of Bolton.
The fabric is designed to be breathable, washable and comfortable and it has strong eco credentials too, being made using recycled plastic drinks bottles.
Charles said: "The pandemic has meant millions of people are now working from home and will probably continue to do so for at least part of the week, well into the future.
"Our cushions have proven invaluable for so many people working from home. Long Zoom and Teams calls can be uncomfortable, and our fabric technology is the best way to avoid 'numb bum'.
"We are also receiving a lot of enquiries from HR heads who know they need to give strong consideration to looking after their staff when they are working from home."
To find out more visit www.airospring.co.uk


Published: 15th June 2021
Source: Airospring Medical Limited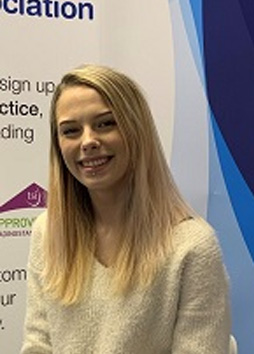 Millie joined the BHTA in March 2019 after completing an Extended Diploma in Level 3 Creative Media.