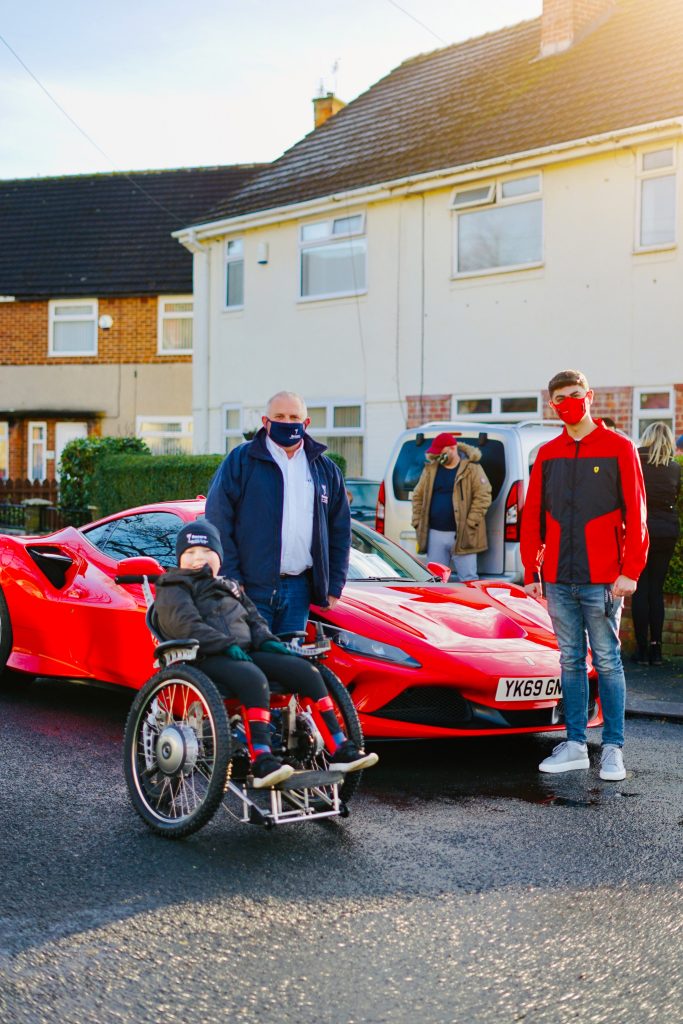 Super Ferrari fan Robbie Bayles, 7 from Darlington, has received the ultimate Christmas gift – independence for the first time, thanks to a fundraised, bespoke 'Ferrari inspired red' GTE Trekinetic powerchair, delivered by Recare Limited and JCT600 Brooklands – Ferrari, in a Ferrari F8 Tributo.
Robbie has Arthrogryposis which is a rare condition that severely affects his joints and results in mobility difficulties. To remain mobile, he has been pushed in a manual wheelchair since birth, however his desire to become independent has grown year-on-year. Robbie was desperate for a powered wheelchair he could drive himself, however family finances didn't allow for him to own his ultimate dream powerchair – the F1 inspired, GTE from Trekinetic, which he trialled with Recare. This ultra-lightweight, carbon-fibre powerchair is state-of-the-art, with appearances in science fiction movies and is multi-award winning.
Sarah, Robbie's Mum, says: "When Robbie trialled a Trekinetic GTE powerchair from Recare, he was so excited he didn't sleep that night! He tested it around a gravel circuit and kept shouting 'box, box, box' as if he was coming into the pits. He absolutely loves F1 and has asked for a Ferrari inspired red powerchair. Afterwards he said the trial was the best day of his life!"
Hence Sarah started a fundraising campaign in the hope they could reach a £10,000 target. With the help of friends and family, the funds were raised within months to purchase a GTE whilst leaving extra donations promised to other families with disabled children. Recare, a specialist distributor of Trekinetic wheelchairs, was contacted by Sarah and an assessment was organised with a surprise delivery planned before Christmas.
With headquarters in Oxfordshire, Recare is a family-run specialist supplier of high-quality mobility equipment for adults and children with restricted mobility. Their skilled assessors, therapists and technicians work across the UK supporting individuals with disabilities, so they benefit from greater independence and enhanced wellbeing. As a caring specialist with a respected reputation, Recare is renowned for providing high quality manual and powered wheelchairs such as the GTE from Trekinetic. The Holland-Oakes family who own Recare are also Ferrari and F1 followers, so have been delighted to organise a bespoke GTE with 'Ferrari inspired red' integrated into its carbon fibre monocoque design. In addition, Richard, Recare Managing Director, decided to approach JCT600 Brooklands – Ferrari, Leeds, to see if there was a possibility they could make Robbie's powerchair delivery even more special – they kindly agreed.
Richard Holland-Oakes said: "On behalf of everyone involved, I would like to thank JCT600 Brooklands – Ferrari, for helping us make Robbie's handover even more memorable. Seeing his new Trekinetic GTE powerchair being delivered in a Ferrari was an experience I know he will treasure for the rest of his life. He is such an amazing lad and a huge Ferrari fan like myself, hence I've driven up from Oxfordshire to handover the powerchair personally. It promises to be such a rewarding day for us all which is why Recare does what it does."
Andrew Potts, General Manager, JCT600 Brooklands – Ferrari, added: "When we were approached by Recare and informed of Robbie's story, we were immediately on-board to make this a special experience for him and his family. Knowing Robbie is a big F1 fan, it only seemed fitting to provide him with an experience he won't forget and to extend that into next year. We hope he enjoys his gifts and we look forward to him joining us in support of Team JCT600 for one of the Ferrari Challenge races in 2021."


Published: 22nd December 2020
Source: Recare