Theraposture, the exclusive adjustable bed and chair partner of Parkinson's UK, will be supporting its latest fundraising and awareness campaign 'Time for Can'.

Parkinson's UK is the largest charity in the UK that raises funds for research into Parkinson's whilst supporting people with the condition. As a specially selected product partner to the charity, Theraposture provides quality adjustable beds and chairs, so individuals with the condition can live more easily at home. Every Theraposture sale through the charity generates a donation back to Parkinson's UK whilst customers receive a 10% discount on all products. As a charity supplier, Theraposture is proud of its long-standing relationship with Parkinson's UK and is delighted to be supporting its latest fundraising campaign 'Time for Can'. It will be sharing content throughout its communications including social media and on the website.
The 'Time for Can' campaign is being spearheaded by a new hard-hitting national TV advert which is a first for 10 years from Parkinson's UK. It's theme is based on how the charity's work can overturn the 'can't' effects on people with the condition, to the 'cans' that they can achieve through donations and support. Through a range of media activity, the 'Time for Can' programme highlights Parkinson's as the fastest growing neurological condition in the UK – hence the urgent need for donations so research to find a cure can continue.
The launch of this campaign is coinciding with several recent TV appearances by leading actor Michael J Fox who has Parkinson's. His latest media coverage is hoped by Theraposture to increase awareness of the condition and what can be achieved with the right support. As the number of people with Parkinson's continues to increase, the partnership with Theraposture is vital as a discount on its award-winning Rotoflex rotational bed is possible. This world-leading and patented powered bed, with variable height, profiling and rotational action, allows people with mobility challenges to get in and out bed independently. Specifically designed and refined over 20 years, the Rotoflex is a proven solution for greater comfort and safety in the home when living with a neurological condition.
Liam Braddell, Theraposture Sales Director, comments: "We are all impressed with the latest Parkinson's UK campaign, particular the TV ad. Our Trusted Assessors and Occupational Therapists support people with Parkinson's on a daily basis whilst seeing the huge difference a Rotoflex bed can make to their lives and those they live with. It provides a trusted solution to reduce the need for carers, saves money in the long run and improves user dignity. Being able to get in and out of bed on your own terms and without manual handling from others is invaluable. Now we are all trying to reduce the need for regular visitors into our homes, the Rotoflex can provide a way to eliminate Covid-19 risks as carers may not be needed. This is particularly essential for vulnerable people such as individual with Parkinson's. We will be sharing the Time for Can campaign across all our communications to ensure the £1,000,000 Christmas fundraising target is met."

Published: 23rd November 2020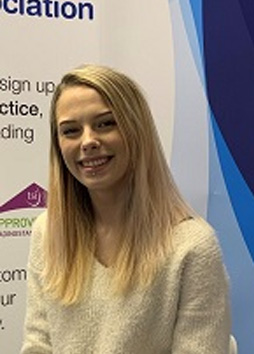 Millie joined the BHTA in March 2019 after completing an Extended Diploma in Level 3 Creative Media.