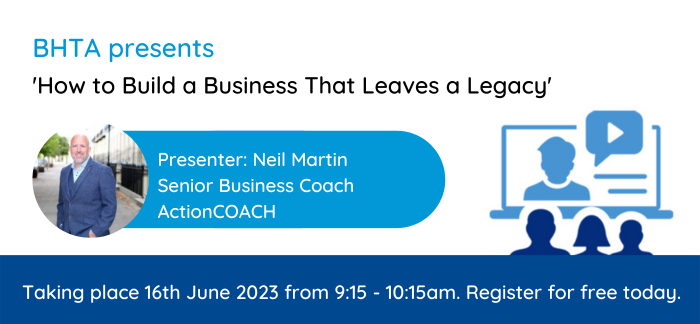 Join us at 9:15am on the 16th June for this one-hour member webinar.
This session will look at the six steps for building a business that leaves a legacy, with a specific focus on: 
Establishing vision and values
Embracing innovation, systems and technology
Cultivating a people-centric culture
Establishing ethical and sustainable practices
Planning succession and creating success
The webinar will delivered by ActionCOACH Cheltenham's Senior Business Coach, Neil Martin.
We look forward to seeing you there!
*Please note: Registration to this webinar is only available to members of the BHTA
If you are unable to attend, be sure to register anyway to receive a copy of the slides and recording after the event.
---
About the speaker
Neil Martin is a multi-award-winning speaker, content creator and performance coach. With over 25 years business experience, his personal approach has helped thousands of entrepreneurs and business leaders increase their profile, productivity and profits.
Neil has delivered training and coaching to thousands of business owners in both group and one to one settings; helping them learn and implement strategies to revolutionise their approach to both life and business. Neil has worked with organisations of all sizes, from large corporates to start-ups and has worked with clients in a broad range of industries.