Now mobile again thanks to two TGA mobility scooters, Gini Mitchell, 49 from Folkestone, is working with Countryside Partnerships in Kent to make countryside and coastal paths more accessible for elderly and disabled people.
Gini has a progressive neuromuscular condition which means she can now only walk short distances using mobility aids. As a lifelong lover of the great outdoors, she uses two off-road TGA mobility scooters to explore the countryside and to facilitate nature sessions in the woods at the Martello Primary School. Gini has recently begun collaborating with Kent Downs Area of Natural Beauty (AONB) and North Downs Way National Trail so they can make the countryside and coast more accessible for mobility scooters and powered wheelchairs. Gini is also now a qualified North Downs Way Ambassador so she can lead groups of disabled tourists who wish to ramble across Kent. Her 'Mobility in the Wild' eco-friendly tours promise a safe and accessible experience for all ­– made possible by her Supersport and Zest Plus mobility scooters.

Gini has spent the summer out on her Zest Plus researching accessible trails for fellow scooter users. Gini says: "We want as many people as possible who use scooters and wheelchairs to visit Kent. I am so passionate about showing people the wonderful nature we have around here. Everyone is welcome to come and discover the many easy access routes we have across our beautiful county. Funding for 'EXPERIENCE Kent' is contributing to more access to countryside and coastal locations. I am proud to be supporting this initiative on my TGA scooters. You will see on my social media channels where you can go and what you can do in Kent on a scooter, you'll be surprised."

Gini's TGA Zest Plus has shown that even though it is a smaller car boot scooter, it still has the performance to explore off the beaten track as she explains: "I'd owned a flimsy shopper scooter before my Zest, it was rubbish and broke down in the end. I needed something that would fit in the car and would cope with mud and steeper slopes. I was desperate to be getting muddy again and driving through puddles. I did a lot of research online and saw the Zest had great reviews and customer stories. You can take it apart so getting over stiles or gates is no problem and the extra height underneath and bigger tyres mean you don't get stuck on rocks. And as I already had a TGA Supersport, it made sense to get another one as my big scooter had been so reliable. Having both a large and smaller scooter gives me complete flexibility."

Gini adds: "Freedom means everything to me. It means I am back to the world of when I could walk. My Zest has enabled me to explore far and wide when checking out possible accessible walks for my inclusive tours. When we have been out on ambassador group recces, people can't believe where my scooter gets me to. When not volunteering and with my family, we like to cycle however I can't ride a bike anymore. This doesn't matter as I can join in on my Supersport, it is perfect along Sandgate seafront."

Gini's scooters have opened up a whole new world of versatility and independence for her. She can fulfil her love of the countryside, run her school nature sessions, volunteer for Kent Downs AONB and join her family in outdoor activities. Gini sums up by saying: "Definitely get a Supersport and a Zest Plus, you can't go wrong. By having two scooters you have complete flexibility and can go anywhere. I can join in with life and do what I want to do, when I want to do it. I can't wait to get out there with other scooter users so we can enjoy a shared experience and I'm hoping to work with the Disabled Ramblers."

Published: November 2021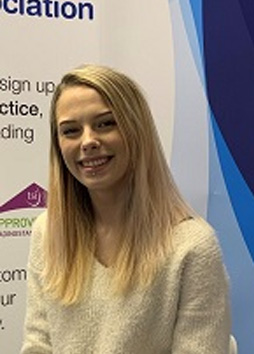 Millie joined the BHTA in March 2019 after completing an Extended Diploma in Level 3 Creative Media.