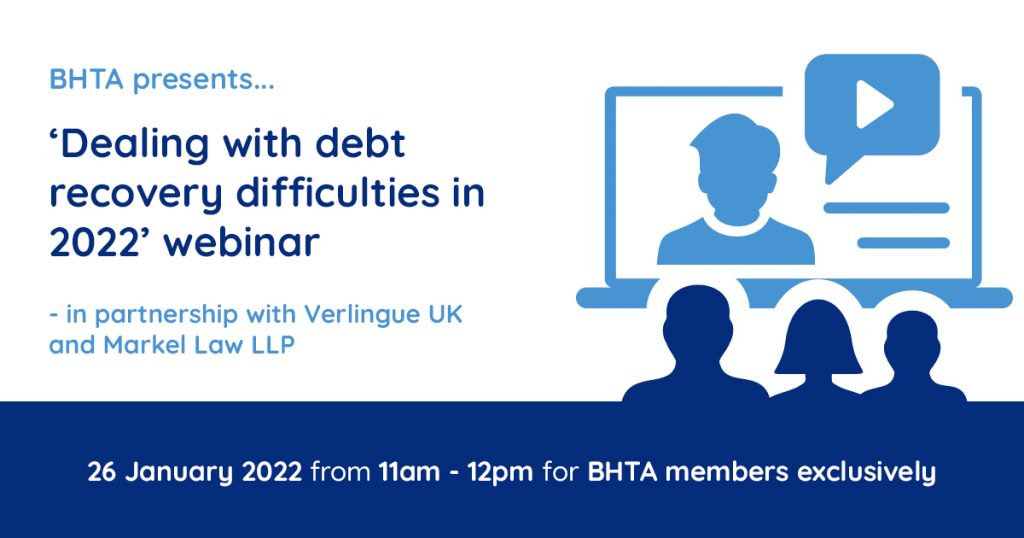 The British Healthcare Trades Association is kick-starting 2022 with its third 'BHTA presents…' webinar this January, exclusively providing members with expert advice regarding handling the sometimes difficult and delicate process of debt recovery.
Knowing how to handle late payers and debt recovery can be critical for business success. On the 26th January at 11am, BHTA will host a free one-hour webinar entitled 'Dealing with debt recovery difficulties in 2022'.
Held in partnership with Verlingue UK and Markel, the session will be led by industry expert and practising solicitor Mark Rankin, Head of Commercial Services at Markel Law LLP, which has its own dedicated debt recovery function.
Problems with late payments and non-payments can cripple businesses of all sizes, impacting cash flow and draining resources. Unfortunately, the recent Covid-19 disruption has exacerbated this.
Last year, the government estimated the figure for late invoices owed to small firms across Britain in October 2021 was £23.4 billion. And, according to the FSB, 62 percent of small companies in the UK have experienced late payment at some point or other.
Providing invaluable insights and tips to help overcome these issues, Mark will equip you with the knowledge to handle payment disputes in an effective way.
The session will cover:
• The first steps to take when an invoice is outstanding
• How to manage the debt recovery process without destroying client relationships
• Your legal options if an invoice remains unpaid
*Please note: Registration to this webinar is only available to members of the BHTA
---
About the speaker
The session will be delivered by industry expert Mark Rankin, Head of Commercial Services at Markel Law LLP. Mark leads the firm's dedicated debt recovery team.
A practising solicitor since 2009, Mark joined Markel Law LLP in May 2020 from a leading international firm. He provides contentious and non-contentious legal advice to businesses; to protect them and to help them grow. The architect for Markel's award-winning debt recovery service, Mark now oversees the service for members of the BHTA who enjoy the benefits of the exclusive BHTA Insurance Scheme.
Did you know?
As a member of the BHTA, your company can access an exclusive insurance package from Verlingue UK,
which includes access to Markel's award-winning debt recovery service.
Sam joined BHTA in June 2021.
She has worked in the healthcare industry for over 7 years, raising awareness of a range of healthcare products and services.