Five-year-old Noah Hyndman from Gosport is the proud owner of a new Paravan PR25 powerchair from Precision Rehab.  Last year, Noah was diagnosed with Limb Girdle Muscular Dystrophy, a very rare form of Dystrophy which took 3 years to finally diagnose and means Noah is unable to move independently as his mother Sarah explains:
"Until just before his fourth birthday, Noah could walk and stand independently but this was increasingly putting more strain on his body which would take up a lot of his energy.  However, cognitively, Noah is like any other five-year-old and loves playing with his brother, sister and friends including going for family walks with our dog and since starting school he has wanted to join in more than ever.  This is why we attended the Kidz South event last year to see what products could help make this dream a reality".
When Noah started primary school, Sarah was told he would have to be hoisted as staff would not lift him from his chair to the floor. Bearing in mind much of the class time in Reception year is spent on the floor Sarah was determined to try and find a powerchair which would enable Noah to take part in class activities without having to be hoisted.
"I was convinced there had to be something out there and as soon as I saw the PR25 and spoke to Matt, I knew we had found the answer for Noah! Matt and his colleagues were so passionate and took the time to explain all about the chair, how it could be adapted for Noah and also listened to Noah's requirements to ensure the PR25 would be the best solution. I spoke to several other companies at the show but none of them shared Matt's passion and we also loved the fact Precision Rehab is a family business with family values and a belief that the chair should fit the person as opposed to the person fitting the chair." continued Sarah.
Noah has now had his PR25 for three months and is getting used to all the unique functions two of which have changed Noah's life as Sarah explains: "Thanks to the PR25's multi-function seat positioning, Noah can now reach things that would otherwise be inaccessible and lower the seat to ground level so he can transition from the chair to the floor on his own and fully engage with his classmates at school, he can still drive the chair with the seat either raised or at floor level which is amazing. Noah also finds his PR25 very easy to manoeuvre and loves the speed of the PR25 as he can now keep up with his friends in the playground and feel like one of them which is all he and the rest of the family wanted. I can't thank Matt and the team at Precision Rehab enough for all their hard work and the difference they have made to not just to Noah but to our family!"
The PR25 features some of the technology found on the Paravan PR40 and uses its automatic stabilizer wheels to enable the seat system to be powered from a normal seat height to floor position. This function allows children to access the chair from ground level enabling interaction with their peers, it is also suitable for small adults. With a base width of just 64cm and choice of two additional functions Tilt in space and seat lift, the PR25 is easy to manoeuvre, fitted with modern R-net controls.
For more information on the full range of powerchairs available from Precision Rehab or if you would like technical support with your existing powerchair call 01256 300111, email: info@precisionrehab.co.uk or visit www.precisionrehab.co.uk
Published: 25th June 2020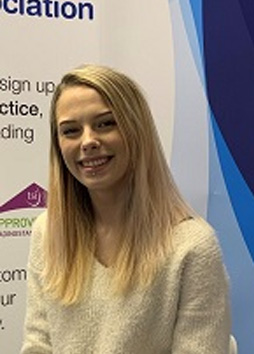 Millie joined the BHTA in March 2019 after completing an Extended Diploma in Level 3 Creative Media.