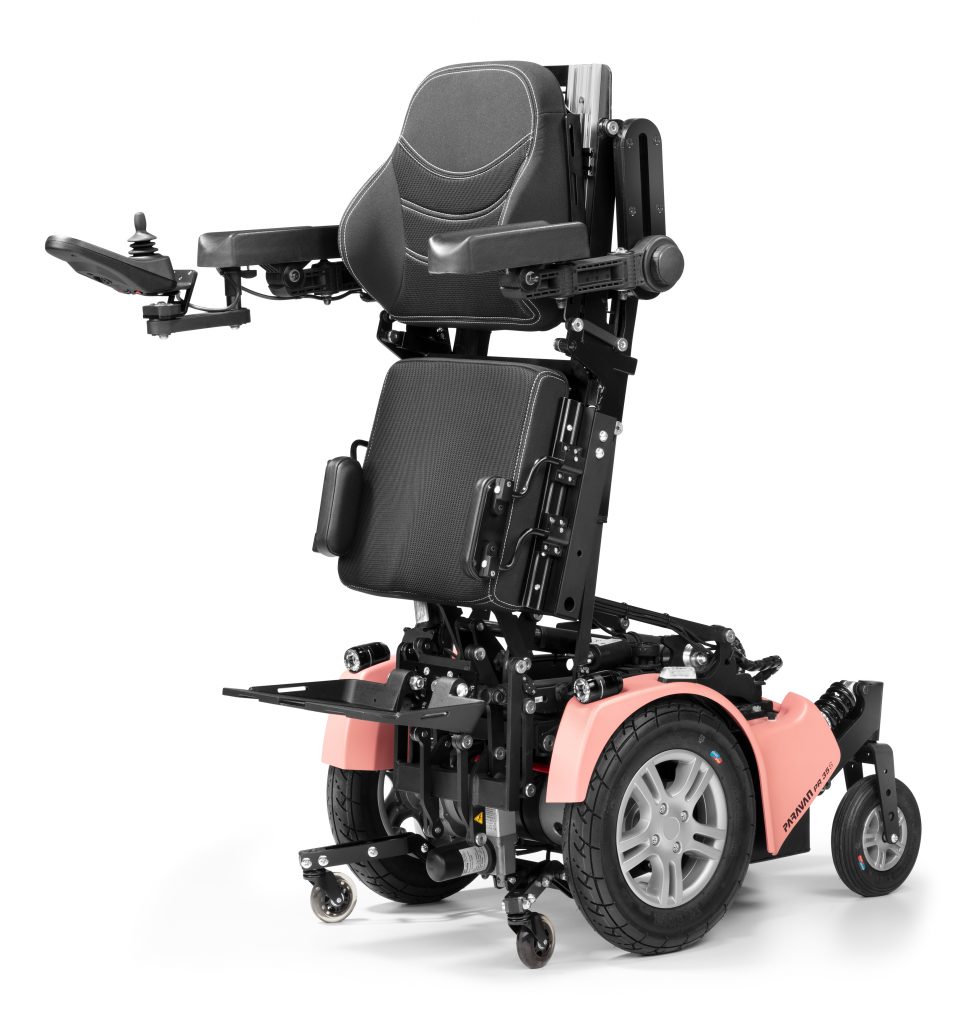 In the latest stage of their continued growth, Precision Rehab is delighted to announce the launch of the multi-function Paravan PR35S – the latest addition to the Paravan powerchair range which is the smallest standing powerchair currently available in the UK.
With a chassis width of just 57cm which is 30% smaller than the PR40 and a maximum user weight of 80kg, the front wheel drive PR35S is a genuine paediatric sized powerchair for children and smaller people. Standard powered features include lying, seat lift, Tilt in space with anterior tilt, recline backrest with incorporated anti-sheer and elevating leg rests. The PR35S has been cash tested to ensure it can be safely used in vehicles with tie down or docking systems.
Whether at home, in school or out and about with family and friends, the PR35S is the perfect powerchair for any child or smaller person who also requires a standing function. The small chassis combined with R-Net joystick control with memory settings makes the PR35S incredibly manoeuvrable even in the most confined spaces which most paediatric powerchairs would struggle in.
"At Precision Rehab, we pride ourselves on offering our clients the latest in powerchair technology and the PR35S does exactly that. Sitting perfectly within our existing portfolio, I believe the PR35S will be extremely popular with clients and Occupational Therapists looking for a standing powerchair which is compact in size yet still has all the features required to allow the user to be as independent as possible" commented Matthew James, Director, Precision Rehab.
In addition to the eight model Paravan range, other powerchair brands currently available in the UK from Precision Rehab include: Dietz, Eurovema, NHD, Sunrise Medical and the recently launched all-terrain TrackMaster.
For more information on the PR35S and other powerchairs available from Precision Rehab or to book an assessment call 01256 300111, email: info@precisionrehab.co.uk  or visit www.precisionrehab.co.uk


Published: 25th February 2021
Source: Precision Rehab