Supporting Service Users, Health and Social Care Professionals and Commissioners
During the pandemic, NRS staff have visited over 16,000 people who have either been diagnosed with Covid-19 or are suspected of having the virus. These visits have all been to people in urgent need of equipment as well as extra support to recover and live safely at home. However, the achievement was  not the volume of visits alone, but the speed in which these visits were undertaken, the care and attention of their staff who have completed these visits. The positive impact they have had on the individuals, their support networks and professionals involved in their care is the true success. 
Staff delivering their services across the UK moved quickly to seven day working to align with the NHS and anticipated increased demand. They saw a spike in urgent orders to facilitate hospital discharges nationwide which were fulfilled in record time. They also received many special requests, including to assist with the evacuation of care home residents after a fire broke out (Brighton and Hove) and to provide and help with the set-up of equipment for a local Nightingale style hospital (Olympic Lodge in Buckinghamshire).
Every request has been met with a can-do, flexible and collaborative approach that has ensured the individual needs of the Service Users and key stakeholders that they serve are met.
Implementing not one, but two new services
NRS have been successful in their bids for both the West Sussex Technology Enabled Care Service (TECS) and Southampton and Portsmouth Integrated Community Equipment Service (ICES), where they were faced with the unique challenge of implementing two new services during the coronavirus outbreak. Their West Sussex TEC Service which commenced on the 19th May 2020 was smooth and successful despite the restrictions on travel, social interactions etc. Two significant challenges to overcome were that team members were located all over the UK and barriers to usual TECS implementation methods due to social distancing measures. Typically, implementation involves co-production with stakeholders and training of referrers via a series of face-to-face workshops, which could not take place whilst maintaining social distancing restrictions. In response, their teams quickly mobilised and adapted their approach to fit with the new virtual ways of working and delivered on time and to plan – something that has been recognised and valued by their Commissioners.
Through the hard work and determination of their staff across the UK, both in the community and behind the scenes, NRS Healthcare has quickly evolved in ways which have improved their organisation for now and the future. The feedback received confirms how their person-centred high-quality service is having a positive impact on Service Users' lives. NRS will strive to keep improving and adapting throughout the pandemic and beyond; ensuring people are safe and feel supported to live independently in their own homes.

Testimonials
'Right from the start the NRS teams all stepped up and showed a willingness and bravery with their roles despite, for many, their increased personal risk and this is reflected in the amount of positive feedback received during this time from both professionals and clients.'
Trish Guest – Commissioner, Berkshire Community Equipment Service

 'I have been pleased and impressed by NRS Healthcare's implementation of the West Sussex Technology Enabled Care (TEC) contract. They have demonstrated strong planning, communication and the ability to address the unforeseen and changing circumstances as they have arisen. Their ability to work with WSCC and the NHS and use their experience of TEC to co-create with us solutions to these issues has helped us deliver the new contract on time even with all the challenges COVID-19 has presented.'
Sue Tivey – Senior Contracts Officer, Directorate of Children, Adults', Families, Health & Education, West Sussex County Council


Published: 2nd July 2020
Source: NRS Healthcare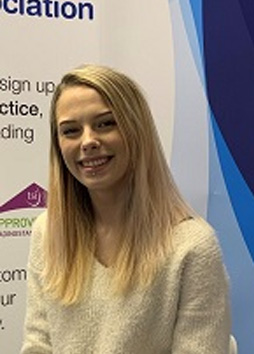 Millie joined the BHTA in March 2019 after completing an Extended Diploma in Level 3 Creative Media.