Theraposture, the award-winning specialist in care cot beds for disabled children and adults, will be exhibiting and presenting a video seminar at 'Kidz Venue to Virtual', 9-13th November 2020.
The event will be held at: https://www.kidzexhibitions.co.uk/venue-to-virtual/

Replacing the long standing Kidz North exhibition, this online event will provide the same extensive range of products and service information that helps disabled children and young adults.
Theraposture will be presenting a video seminar at the event:
Understanding why Theraposture adjustable cot beds are the considered choice for families and healthcare professionals
10-11am, 11th November 2020.
Presented by Liam Braddell, Theraposture Director and Shaun Masters, Occupational Therapist.
The Theraposture seminar will combine a pre-recorded presentation by Liam with a live Q&A session hosted by Shaun Masters, OT. Liam will outline the many reasons why Theraposture cots for disabled children and adults are seen as the considered choice by families and healthcare professionals. Liam will provide details on:
the extensive cot choices from Theraposture
the popular 'future proofed' modular Mascot cot
cot functionality, padding and door height options
emergency equipment loans from Newlife
how Theraposture aims to match every comparable quote
Theraposture home demonstrations and video assessments
how Theraposture OTs and Trusted Assessors appropriately assess wants, needs and risks
successfully working with Occupational Therapists, including CPD training
This informative and engaging video will be followed by the opportunity to ask questions directly to Theraposture's Occupational Therapist. Shaun will be able to provide potential solutions to individual client or family member challenges and offer further guidance regarding assessments and appropriate product provision.
To support the seminar, the Theraposture virtual stand will provide a range of downloadable product information and case studies. Easy ways to contact Theraposture will also be available including links to their comprehensive website.


Published: 23rd October 2020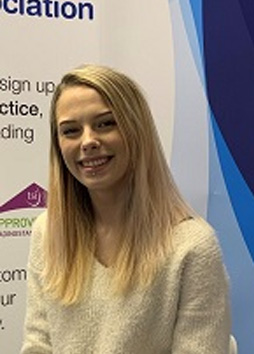 Millie joined the BHTA in March 2019 after completing an Extended Diploma in Level 3 Creative Media.